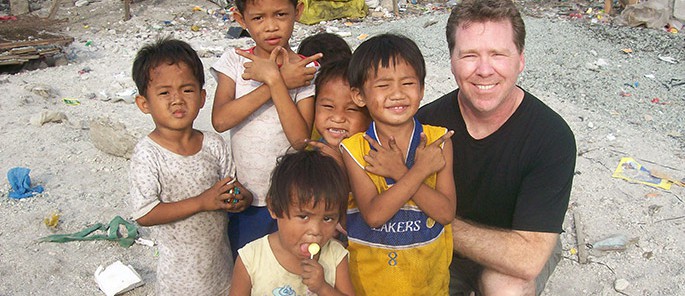 30 YEARS AND COUNTING
Jan 6, 2020
30 YEARS AND COUNTING
This week marks 30 years since my first trip to the Philippines.  I had no idea what I was getting into when I volunteered to travel with Mylon & Broken Heart on their tour in the Philippines.  At that time they were one of the biggest bands in the Christian Rock world.  My band Contender had done dates with them and the opportunity came for band mate Bob Vinsick and me to go on this tour.  I saw it as an opportunity in the music business…..little did I know that trip would change the course of my life.
One afternoon a small group of us visited the Smokey Mountain garbage dump community.  I was afraid of how I would respond never having experienced poverty like that.  I was both devastated and amazed by what I saw.  Devastated at the horrible conditions and extreme poverty but amazed by the people I met.  Amid such hardship they smiled and laughed and wanted to share what little they had.  I left there changed….how could I not be?  I began sponsoring my first student Paul who's family was the first I met entering the community.  That to me was not enough, I knew I needed to go back.  I wanted to help, yes, but I believed the people of Smokey Mt. had much to teach me.  After 30 years I can tell you they have taught me much about contentment and having joy in hardship, lessons I'm still trying to learn.
As the years went on and things progressed the need for something more substantial in organization was needed.  Thanks to the vision and determination of James Smith, Hope For Change International was formed in 2008.  This became the launching pad for so much more.
If you would have told me years ago that I would somehow be involved with the Miss Universe Organization…..I would have thought your were crazy…..well…..
In 2015 Pia Wurtzbach, the Philippines candidate, won the Miss Universe title.  Famously she was the one involved in the "wrong winner announcement".  I was introduced to Paula Shugart the president of the Miss Universe Org. by my lifelong friend Keith Schiller.  That started what has become a beautiful relationship with H4C and Miss Universe.  Our first event with Pia was her having breakfast with our 2016 college graduates.  She was so gracious and generous with her time spending 2 hours with them.
Over the last 3 years we have had numerous events that have raised a tremendous amount of support.  Because of our relationship with Miss Universe we have received support from these wonderful corporations; Frontrow, San Miguel Foundation, PLDT/Smart and others.  I can't begin to express my gratitude for the support and the trust.
Looking ahead I have no idea what the future holds.  I know that we will continue to do our part in helping as many as we can out of the grips of poverty.  Thank you all for you support, let's keep moving forward!
Paul Grimsland