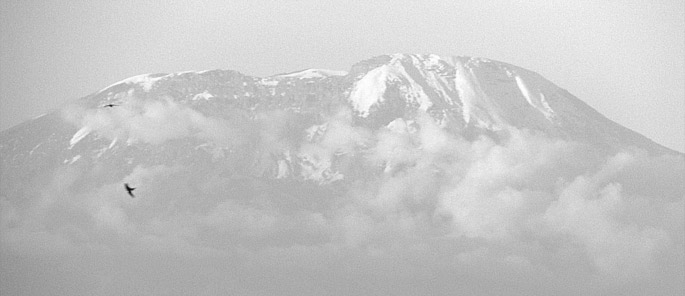 Memorial to Helen Issangya
Mar 25, 2010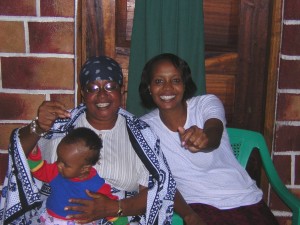 Mama Helen with one of  her daughters Rogathe and one of her grandchildren, Shirley.
The first time I went to Africa was in 1993; that seems like two lifetimes ago.  Since 1993 I have been back to Africa well over twenty times (thank you MSCF!).  Most of these times I have stayed in the home of my dear friends Eliudi and Helen Issangya, in Sakila, Tanzania. 
The first time I rode from the Kilimanjaro Airport to the village of Sakila I felt as if I had travelled to some foreign planet, or possibly the moon, that's how strange it was to me (and also to my good friend, Mike Wood).  Now when I go to Sakila it is truly my "second home."  Other than my own house I feel most at home when I am in Sakila.  Much of that credit goes to Mama Helen Issangya who saw to it that I was welcomed and cared for over the last seventeen and a half years.  This dear woman, wife of my great friend Eliudi Issangya, and mother to six children, has now passed on to her eternal home, a greater home.  A land that will never grow old.
This blog is a small attempt to show her the honor and respect that is due to her for taking care of me and the many other people who showed up at her home in need of care.  Mama Helen was always there for me. She made sure that I had the food that I needed, the clean water that was necessary, and she showed great compassion towards me as I went through everything from malaria (1996) to a heart attack that caused me to be hospitalized and have surgery in Amsterdam  in 2007.  She had suffered so much with her illness that she knew how to care for those who were in pain or distress. 
Helen treated me with such respect. I hope that I sincerely returned that respect back to her.  Thank you Mama Helen for giving yourself to all of us for all these years.  I, and many others, African and Americans, will never forget all that you did for us, and  the "Mama" that you were to us.  Be at rest, Be at Peace, Mama Helen. 
 Helen Issangya went to her eternal home on February 2, 2010.
James R. Smith