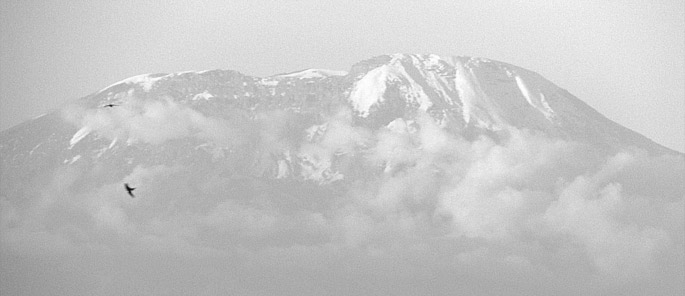 "Avocados Keep Falling on My Head"
Jul 3, 2010
Well, this picture of an avocado tree will have to do until our African traveler sends me the "actual" image of the avocados that he has to dodge while he ambles along the village paths. "You  have to be careful when you walk under the trees because avocados are falling from trees and will hit you on the head." Do you think this image is big enough? As I look at it, I feel like ducking under so an avocado doesn't fall on my head! James has not  been on the Internet or our blog publisher, WordPress, long enough to send "his" picture to me. But ~ it might be coming in the next few days and then I will replace this image ~ or maybe NOT!
Here's some very good news ~ the well-driller from Gillette, Wyoming, whose real name is Trusty, arrived on June 26th (or thereabouts) in Sakila, Tanzania. Trusty's plan is to drill twenty or twenty-five new wells within the two weeks of his stay. Factors such as drilling in the right spot and breaking of equipment will limit the number. James tells us that, "Each village is very joyful when they see the well-drilling rig come to town." Here's the bad news: Trusty and his trained African crew are up and out drilling wells but they are not having success. Despite digging deep in two spots they have not found water. This is disconcerting and has praying people doing just that ~ praying that they will find water.
Here are some other facts:
1) Three containers arrived with food, medicine, drilling supplies, educational materials, building materials, clothing, etc…
2) Elementary school registration begins this week; additional sponsors are needed or the number of students will be cut back.
3) The orphanage has had its needs met.
4) There has been good rainfall so that the corn crop is going to be good!
Here are some facts about Tanzania written by a student: It has 2 capitals now! Dodoma is the newer one, and Dar es Salaam is the old one! It's home to the Masai! It's in East Africa! It borders the Indian Ocean! It has Lake Victoria, third largest lake in the world! It has world's largest grassland, Serengeti! It has Ngorogoro Crater! It has Africa's highest mountain, Kilimanjaro! It borders Kenya, Uganda, Mozambique, Malawi, Rwanda, Burundi, Zambia,and Democratic Republic of the Congo! Official language is Swahili!
Our Hope for Change African partner, Eliudi Issangya, sends his smiling "thank you" to everyone who has contributed to the ongoing projects that supply water, medical care, educational opportunities, and trade training to the people of Arusha Region. In a future blog update we will tell you the state of affairs of "New Hope International Hospital".
There's another picture that James has to send me ~ when he delivers those pencils to the students of the elementary schools in Sakila and Arusha. 
Please visit our web site www.H4Cinternational.org and also send us your comments ~ we'll be happy to hear from you. ~ Sarah