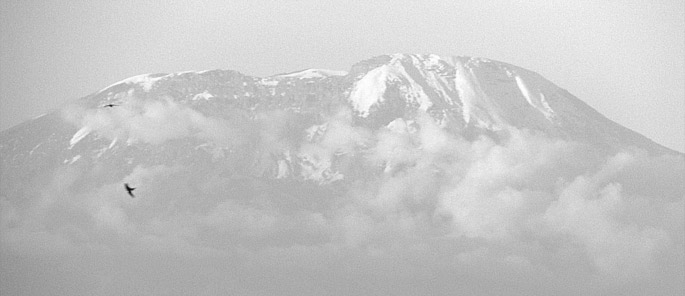 Hit The Ground Running
Mar 9, 2014
It's Monday morning here in Manila.  I arrived late Wednesday night and it's been non-stop so far.  Friday evening I had a great time with the sponsored high school students at their weekly meeting…..what a fun bunch!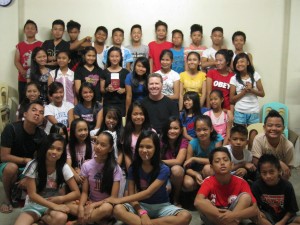 Recently during one of the meetings they did a survey and one of the questions was "what is your biggest whine?"  Mariel, one of our first year high school students (7th grade) said her biggest "whine" is she just wanted to eat chicken in a restaurant.  Well, that's an easy fix!  We surprised her the next day with her first trip to the mall and a dinner of chicken at Max's!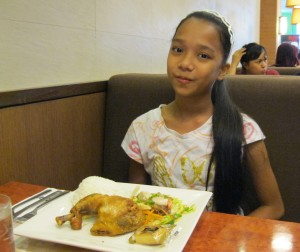 Something that we take for granted is, for some, a dream come true.  It's moments like this that I love!
GREAT NEWS!
I'm always so thrilled to be able to get a positive update on our students.  Last year I blogged about Ana Marie, one of our college students (April 2013).  She was in a very difficult time with her home life and struggling with school.  I was planning to visit her, but ran into her on Saturday.  She was all dressed up because she just returned from doing her final presentation in preparation for her graduation this month from college!  Not only that, she has also been presented with a job offer!  I'm so proud of her.  She survived incredible odds and succeeded!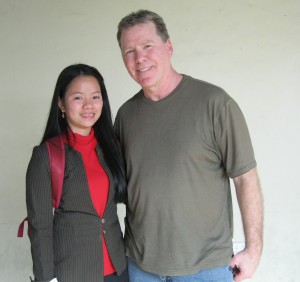 We can't thank Ana Marie's sponsors enough.  This was a case where an entire family pitched in together help with the cost of her sponsorship.  We are so grateful!
Last night I had the honor once again to escort Aisha and her mom on our annual shopping trip.  Aisha's sponsor always give's me money to specifically take her and her mom shopping.  It's always a highlight for me.  She is such a great kid!  As we were going through the aisles she was making sure whatever she picked out had enough for her 2 sisters and her mom.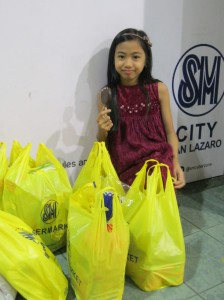 Thank you all for taking the time to read my update.  I start my first full week here today.  A lot of kids to visit and events coming up and I can't wait.
Today my wife Vanessa leaves with a medical team to Tanzania.  I'm wishing them well and we will meet at the airport when we all return!
Thank you all!
Paul Grimsland